As we celebrate nursing week 2023 and today being nurses day 2023 it is worth reflecting on why social care is a great career choice for nurses.
As a nurse, one of the questions I am frequently asked by other nurses is "why would you want to work in social care?".  Well after more than 30 years as a qualified nurse and having worked in the acute sector, higher education, hospices and social care, I think the question really ought to be "why wouldn't you want to work in social care?".
During nursing week 2023, I am reminded of the reasons I went into nursing as well as all of the interview answers from prospective student nurses and newly qualified staff about their ambitions for a life as a nurse.  Key among these reasons is the desire to help people, to get to know people, to give something back and to make a difference in the lives of the people one is caring for.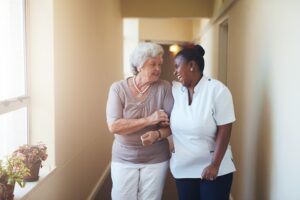 Of course one can get to do all of this in almost every setting in which there are nurses, but, in my estimation nowhere else enables nurses to do it to the extent seen in social care.
Among the watch words of nursing this nursing week 2023 are "holistic care" and "person-centred care", these both require the nurse to get to know the person (in social care we call them people, residents, clients or service users and never patients) in some detail.
To be holistic we have to understand the person's physical, mental and social health and background, while to be person-centred requires that we understand their wishes, wants and needs in detail.  This cannot happen in any meaningful way in acute settings where the emphasis is to get "the patient" through the system and back out again.
Being holistic and person-centred is a journey and not a destination, that is worth remembering during nursing week 2023.  That journey takes time, patience and more than a little stamina.  It has be undertaken at the pace of the service user (for want of a better word) and cannot be hurried.  In social care such relationships are forged between nurses, and carers, and the people they care for over many months and years and include an intimate knowledge and understanding of the other person which is often only usually seen within the family unit.
Being holistic and person-centred is a journey and not a destination.  That journey takes time, patience and more than a little stamina. 
Holism is one of the elements of nursing to which we often pay lip-service, but fail to truly engage in.  Consider what you know about the people you care for today, do you know their spirituality, their life story, their family.  This nursing week 2023 are you able to list the things they are afraid of, the things that bring them joy or the moments you have shared with them which are momentous?
If you are a social care nurse you can.
Can you be at their bed side delivering palliative care and end-of-life care to someone you knew in life?  Whose family you are on first name terms with, whose upset at their passing you genuinely share?
If you are a social care nurse you can.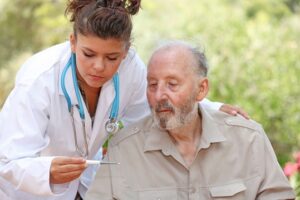 There is a reason, care homes and nursing homes are called homes, the clues is in the word home.  It is a place where nurses can be with the people they provides care to and work with in a familiar family environment.  Home is where we gravitate to when we need solace, succour and familiarity.  It is where, with digital care management software such as the care and support app from Careis, https://www.careis.net/, nurse can engage in the best holistic and person-centred care.
When I was training, I recall we talked a lot about the role of the nurse in being with the patient, it was perhaps not until working in social care I really understood what this meant, except now it is being with the person.
If the person is the sum collective result of all their experiences and this is reflected in their relationships with family, friends and community, then, like getting to know one's family, a nurse has to be there over a long period to truly get to know the essence of the people they serve.
This nursing week 2023 I really cannot understand why there is a crisis in recruitment in social care which affects nursing staff.  It is one sector where the nurse can be quite independent, again the clue is in the name, nursing home, and can practice all of the things which sit at the core of nursing.
Health Education England recognise social care nursing as a distinct expertise, with unique skills and a focus on core nursing values: https://www.hee.nhs.uk/our-work/nursing-social-care-0, if you are one of those nurses who has never considered a role in social care, perhaps this nursing week 2023 might be the time to reconsider?
If we for example, consider the 6c's which are said to underpin the provision of care in all settings, then there are few places where these can be seen to such a great extent as in social care.
– Care – Competence – Compassion – Communication – Courage – Commitment
The care is derived from a long-term relationship in which the nurse has to demonstrate competence in managing health and wellbeing aspects of the persons care in a committed way over months and often years.  It is bounded by compassion for those people to whom we choose to give of ourselves day in and day out,
communicating with them, and the people important to them, according to their needs and having the courage and commitment to care for them in life, at the end-of-life and ultimately their families after the person's death.
No, I don't think the question is "why would you want to work in social care?" this nursing week 2023 it is clear the real question is "why wouldn't you want to work in social care?".
This nursing week 2023 at CARE is, we welcome comments on this post and others like it.  We especially want to hear why you work in social care and what makes it so special to you.